JD Zazie & Peter Cusack (duo) + Mat Pogo (solo) + Jonas Meyer (DJ – Set)
JD Zazie & Peter Cusack (duo) + Mat Pogo (solo) + Jonas Meyer (DJ – Set)
Doors 19:00 / Start 21:00 / Donation
JD Zazie & Peter Cusack (duo)
(Impro / Experimental / Field Recordings)
Peter Cusack is a musician, field recordist and sound artist with a long interest in the sound environment. Projects include Favourite Sounds and Sounds from Dangerous Places. In 2011/12 he was a guest of the DAAD Berliner Künstlerprogramm. Musically he is an improviser playing guitar and field recordings.
JD Zazie is an experimental DJ, avant-turntablist, sound artist and curator based in Berlin.
Coming from a DJ and a radiophonic background JD Zazie has explored different approaches to real-time manipulation of fixed recorded sound. As a solo performer, in small groups, and in large ensembles, she works in an area which is constantly stretching the borders of what could be defined as DJ mixing, free improvisation and composed music.
She is a member of Reanimation Orchestra, a member of the Burp Enterprise collective and broadcasts monthly on Colaboradio and on Reboot.fm.

Peter Cusack:
www.crisap.org/people/peter-cusack/
https://sounds-from-dangerous-places.org/
JD Zazie:
https://jdzazie.tumblr.com/
Mat Pogo (solo)
(voice, experimental, improvisation)
Born in Rome is a vocalist and graphic artist now resident in Berlin.
His solo set features his voice, a microphone and some electronic devices. He developed his own language as a vocalist using his experience as a rock singer, an improvisor and radio artist where music, sounds, anecdotic and narrative elements fuse constantly. Weird processed vocal eruptions, intense screams, occasional words, pitched mouth cavity noises and electronic textures melting together in a very expressive way and often with a delicate sense of humor.
www.burpenterprise.com/burp/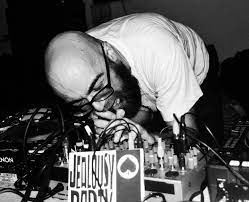 Jonas Meyer (DJ – Set)
drunken bird songs and furniture music
https://soundcloud.com/holographicfield/dj-setfusion-festival