AkA + Leg Puppy + Mestizana (DJ – Set)
AkA + Leg Puppy + Mestizana (DJ – Set)
Doors 19:00 / Start 21:00 / Donation
AkA
Electronic / Portugal
French electronic maverick AkA presents "MONDO ATOMICO", his latest exploration into the fear and fascination atoms create in us, little punny humans.
Superbly digital, AkA's is a tsunami of 0's and 1's, a colourful collision between Kraftwerk and Ministry that will please the curious souls who want to step beyond classic techno pop.
Leg Puppy
Electro / England
Leg Puppy are proud to bring a world exclusive first play of the 'Humanity 2.0' concept to Berlin. Featuring songs from the forthcoming album. Complete with a brand new audio visual experience.
"Leg Puppy are George Orwells house band"
Joyzine
https://www.youtube.com/channel/UCpzGJ_jQbCYScarebRZBwNg
https://www.youtube.com/watch?v=6ncSO_XPoHA&t=6s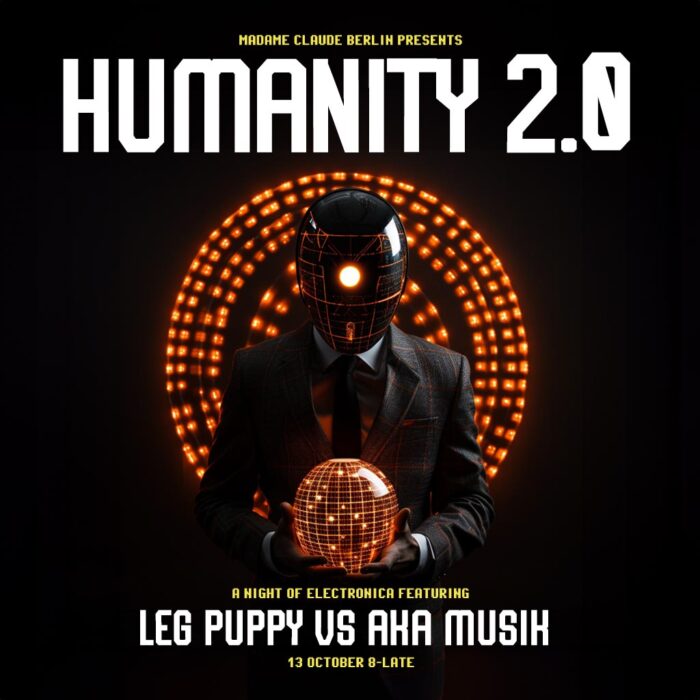 MESTIZANA (DJ – Set)
House, Electro and Dark disco.
https://ra.co/dj/mestizana/biography